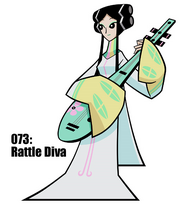 Rattle Diva is a human who preforms at big green along Giraffe King, Panda King, and Frog King.
She can make projectiles made of music.
Hero: 108 - Heroes of the Hidden Kingdom
Edit
Rattle Diva appears as the owner of Rattle Diva's Music Shop, and she gives First Squad their instruments.