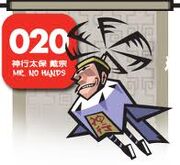 Mr. No Hands
is a strict gruff like drill sergeant he use to be the leader of first squad but he handed
it down to Lin Chung he's not much of a warrior but he's the only member he is one out of two members of first squad who can fly.
Personality
Edit
Mr. No Hands is very strict and gruff also somewhat aggressive he isn't much of a fighter but he can be warrior when he need to be.
Mr. No Hands has shown to have a large supply of darts.
He has hands but the in cuffs to stop him from tickling him self. He has a strong past with Mighty Ray.